Happy to have Friday here!
Today I am sharing a lovely guest by the name of Rebecca!
Hello Southern Lovely readers! I'm Rebecca
and I blog over at
My Girlish Whims
, a blog all about beading, crafting, and general life as a girl!!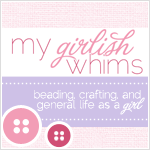 For my "What I Know" post I decided to talk about the craft that I know best of all...jewelry making!
I started making jewelry as a bored kid in the summer who needed a hobby. Let me tell you...it was NOT very pretty at the start. I have a very vivid memory of me trying to tie wire together to make a necklace stay together and I got so frustrated I started bawling. Hah! Well, over the years I've learned a few more techniques and I've been sharing them on my blog recently with a
Jewelry Lessons
series!
Jewelry making is such a rewarding hobby because you get to wear your creations when you are done with them and show them off!! It's actually surprising easy as well. After you learn a few basic techniques you will be surprised at how many things you can actually make.
To get started in jewelry making you need a few
basic tools
such as these:
And a variety of
beads
like these:
Beads are my FAVORITE part of jewelry making. There so many different kinds/shapes/sizes/colors....you can really let your creativity go to work!! Sometimes I just sit at my beading desk for hours playing with different combinations of beads trying to work out new designs in my head!!
You will really be surprised at how simple and addicting jewelry making really is!! Before you know it you'll walk into a department store and be like...I could make that necklace...and that one...oh and that one too!!
If you have any more questions on how to get started, pop over and say hello and let me know on
my blog
!
Wasn't this great! She sure knows her stuff when it comes to creating pretty accessories! I need to take up jewelry making & save myself a lot of money. :) Thanks for the very helpful tips, Rebecca!