Happy Friday!
In the midst of all this celebrating, I couldn't leave out my little series. Especially when I have such a wonderful guest, as I do today.
Give Kyla some love, she's great!
Hi!!!

I'm Kyla from
Funky PolkaDot Giraffe
!
I've lived all over the country.
Born in Las Vegas, jr. high and high school in Iowa,
a summer in Kentucky, college years in Utah and now I'm settled
in fabulous Orange County, California.
I'm married to my college sweetheart and we have two crazy munchkins.
I'm a second grade teacher, turned creative blogging enthusiast, and I tend to the
obsessive - just ask my husband :)
I'm a room mom, do day care full time, work with the youth at church,
and love blogging on my
crafty blog
.
I'd love to share with you what I know about making printables.
I love making them and sharing them with friends.
I used Photoshop to create my printables.
It was an anniversary gift from my fabulous husband.
I know it's pricey, but I think it's totally work it.
You can find great student discounts online,
(and that includes if you have student living in your house)
and sometimes Costco carries Photoshop Elements,
which is a great starting point for getting your feet
wet in Photoshop.
I'm pretty much self-taught in Photoshop.
I got started with Photoshop about 6 years ago
when my friend Mandy introduced me to digital scrapbooking.
She gave me a one hour introductory lesson in the basics,
and then I just jumped from there.
In the beginning, I used a lot of online tutorials.
If I wanted to know how to do something, I Googled it.
Pretty much if you want to know how to do it,
someone has made a tutorial.
My favorite beginning tutorials are by
Misty Cato
.
She uses screen shots and as a visual learner,
that was really helpful when I was getting started.
Ali Edwards
also has a great week-long series
on how to scrapbook with your computer,
which has great tips for downloading,
unzipping, and using files.
I use a lot of digital scrapbook supplies to create my printables.
Some of my favorite online digital shops are:
Sweet Shoppe Designs
The Lilypad
Scrap Orchard
I also love to use fabulous fonts -
that is the key to a great subway art printable.
I love getting fonts from:
dafont.com
fonts for peas
Font Squirrel
I hope you start making your own printables -
whether it's birthday invites, a bag topper, or subway art.
You can check out the free printables I have
HERE
!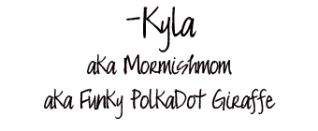 Oh, such great info! I have wanted to make my own printables for a long time, now I feel like I have somewhere to start. Thanks for sharing, Kyla!